Raise your hand fist if you were one of the millions of women who took to the streets for the 2017 or 2018 Women's March. ✊✊✊🏻✊🏻✊🏼✊🏼✊🏽✊🏽✊🏾✊🏾✊🏿✊🏿
Sometimes it feels like it's one step forward, two steps back when it comes to social justice issues. In an era when the American president is also a self-admitted sexual predator and women's rights are systemically targeted, it's just as important as ever to take a stand in support of and protection for fellow women.
So, what are the actual issues?
There are literally TOO MANY TO NAME IN ONE POST. I'm not even kidding. Some people march for electoral reform and equal representation. Others march to bring awareness to missing and murdered indigenous women. Many march to protest the specific men who are currently in power.
But me? I'm in it for Reproductive Justice.
For me Feminism and Womanism, in all the segments that I draw influence from, are rooted in the importance of the sovreignty, rights, and access to care for women's bodies. The framework of Reproductive Justice is intersectional while also centering the health of women and communities in the larger context of human rights.
Understanding Reproductive Justice, Loretta Ross
Accessed at trustblackwomen.org
Reproductive Justice is a positive approach that links sexuality, health, and human rights to social justice movements by placing abortion and reproductive health issues in the larger context of the well-being and health of women, families and communities because reproductive justice seamlessly integrates those individual and group human rights particularly important to marginalized communities…Reproductive justice addresses issues of population control, bodily self-determination, immigrants' rights, economic and environmental justice, sovereignty, and militarism and criminal injustices that limit individual human rights because of group or community oppressions.
While I took to Grade Parade in Halifax for the 2017 Women's March, this was my first year standing with the American contingent in Baltimore. Interestingly enough, while the crowd was more diverse (and, dare I say, intersectional — though I would ultimately chalk that up to the nature of being in a larger, more ethnically and economically diverse city), the issues were ultimately the same. The time for standing by quietly while women and marginalized communities are silenced, is over. Voices are raised and united under an array of overlapping, intersecting, and parallel issues that all serve to benefit the greater good — because, truly, a society where violence and oppression is no longer tolerated, is a better society for everyone.
Just because the issues are serious, doesn't mean we can't simultaneously enjoy the vibes of a rally and march field by a shared cause, powerful speeches, and artistic performances. Oh, and who doesn't love seeing all the creative signs?
My pro-women partner carried a sign that quite literally points to women to lead the way from here on out. Men who support change need to recognize that the best they can do is to listen to what women are saying rather than trying to speak for them.
And my sign was a quote from Parks and Recreation's funniest feminist, Leslie Knope. "Uterusus before duderuses. Ovaries before brovaries."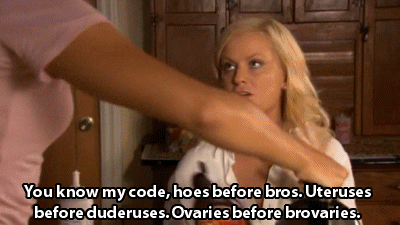 I will proudly say that—for me personally, and certainly not all women—I see my female body, including reproductive and sexual organs, as being very central to my identity and power as a woman. When I think of issues related to sexual assault, access to care, reproductive sovereignty, power and oppression, I feel the connections inextricably linked to my female body. As a feminist I will put the bodies, hearts, and minds of my sisters before that of any men. Because we need to protect each other, for the benefit of everyone.
So, my dear readers, I want to know. Did you march? If so, what did you march for? If you didn't march, I'd love to know why. HMU!